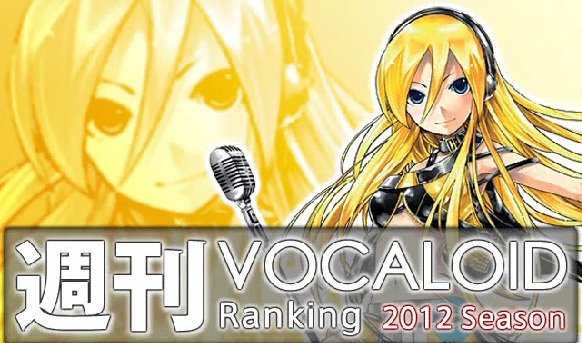 This week has a lot of new things from all genre, including rock, jazz, dance pop (yay samfree!) and well, horror (yes, I know it's not a music genre but still!!!). A lot of new people to check out this week, too, although the top people are still those who have recently become hitmakers. Please check them all out /o/
↑#
- the song moved up from a previous top 30 rank
↓#
- song moved down from a previous top 30 rank
↵
- song is a re-entry to the top 30 rankings
original nicovideo link
Songs are arranged from 1-30.
01.
【IA】想像フォレスト【オリジナルPV】
•
Souzou Forest
[IA -Aria on the Planetes-]
• by
Jin
• Also one of the most covered songs this week in the utattemita side, this gentle pop song starts off with an entertaining guitar melody that persists throughout the song. IA sounds so gentle and so much better here than Headphone Actor, imo. I think she's more meant for gentler, pop-ish songs like this because instead of rock songs because a stronger force in her voice makes her sound a bit flat.
02.
【GUMI】幽霊屋敷の首吊り少女【オリジナル曲】
•
Yuureiyashiki Kubitsuri Shoujo
[GUMI]
• by
Tohma
• Tohma's becoming a hit maker! This track once again showcases his brand of fast rock songs and interesting choice of themes. I appreciate the way he mixed in haunted house game-like rhythm with his guitars. His GUMi sounds a bit weird, probably because it's as shaky as his Miku, but she doesn't sound as squeaky as Miku in high parts.
03.
【初音ミク】黒猫系女子【オリジナル曲PV付】
•
Kuroneko-kei Joshi
[Hatsune Miku]
• by
Scop
• Scop's latest is a pretty, elaborate jazz-inspired song with as usual, magnificent piano music. This time though, he seemed to have used guitars and other effects more generously than usual. His Miku still sounds solid and clear like his previous works, so this song both feels nostalgic and refreshing to me.
04.
IA「イアイア★ナイトオブデザイア」【オリジナル曲】
•
IA IA★Night of Desire
[IA -Aria on the Planetes-]
• by
samfree
• Of course, samfree won't let the chance to make another eurobeat song for his Night Series. IA sounds actually good in this and shows a bit more power and life than some of the other Night Fever songs.
05.
【初音ミク】ジサツブシ【オリジナル曲】
•
Jisatsubushi
[Hatsune Miku]
• by
Nashimotowe
• This is the Vocaloid version of the song Nashimoto wrote for Mi-chan in the "4 x 4" album. I can't get used to the Miku ver. at the moment because I'm too used to hearing Mi-chan singing it, but like most Nashimotowe songs, I'm sure it won't be long before it stays stuck in everyone's minds (plus tons of covers).
06.
【初音ミク】 ぼくらのレットイットビー 【オリジナルPV】
•
Bokura no Let It Be
[Hatsune Miku]
• by
Harry
• First time I'm hearing of this P and this is a lovely ballad with persisting guitar music that clings to you.
07.
【初音ミクオリジナル】クレヨン
•
Crayon
[Hatsune Miku]
• by
bibuko
• Bibuko's really fast at releasing tracks! I like the guitars on this one, slightly rough but not scratchy to the point of annoying. The drums are echoey but not invasive. Miku sounds a bit shaky here or it could just be me, but it adds a nice effect to the already rough rock song.
08.
「なりすましゲンガー」【鏡音リン・初音ミクオリジナルPV】
•
Narisumashi Gengar
[Hatsune Miku x Kagamine Rin]
• by
KulfiQ
•
↓05
Title means "Mimicking Gengar".
09.
AI/164 feat.GUMI
•
AI
[GUMI]
• by
164
• Aaand don't be confused, it's GUMI singing, not IA XD. This is a bit weaker compared to 164's previous rock songs but the magnificent guitar-drum combo, the high-pitched but interestingly tuned GUMI stay the same.
10.
【初音ミク】淑女ベリィの作り方。【オリジナル曲】
•
Shukujo Berry no Tsukurikata
[Hatsune Miku]
• by
MachigeritaP
• What's up with the horror tracks this week /sobs. I'm so weak against these things. This is Machigerita's usual dose of fast-paced rock song with a bit of goth/scare effect. The art. ffffff.
11.
【初音ミク】ネコミミアーカイブ【オリジナル曲】
•
Nekomimi Archive
[Hatsune Miku]
• by
KusoinakaP
•
↓04
Title means "Cat Ears Archive".
12.
【初音ミク】 ワンルーム・オール・ザット・ジャズ 【オリジナル曲】
•
One Room, All That Jazz
[Hatsune Miku]
• by
DATEKEN
• Yes, DATEKEN you can have all of my jazz ♥ Most of the jazz we encountered recently are showy, loud jazz music (thank you, OSTER!). This one seems so much simpler: piano, a bit of sax, and Miku, but the simplicity as well as the smooth way everything was orchestrated (even Miku's voice was made to sound sultrier than usual) makes this a wonderful listen.
13.
【GUMI】カトレア【オリジナル】
•
Cattleya
[GUMI]
• by
yuzuhiko
•
↓09
14.
【初音ミク】 細菌汚染 - Bacterial Contamination - 【3DPV】
•
Saikin Osen -Bacterial Contamination-
[Hatsune Miku]
• by
KanimisoP
; Movie by Deino
• At first I wasn't able to finish watching the entire thing because (!!!!) I spent a lot of time @ - @ at all the stuff in this PV. Basically there's a good amount of gore and pretty details in it (person-insect thingy, rotating brains, etc) but IMO done in a classy sort of way. Except I don't like gore that much. But the way Miku moved here is so hypnotizing even with the appendages in her mouth and just...Okay, I admit my first reaction to this PV was "asflhaetjkqtrkgadaawtfisthisdidiclickth
ewronglinkbutitlookscool?!" T_T Anyway, just watch.
15.
【GUMI】恋愛勇者【オリジナル】
•
Ren'ai Yuusha
[GUMI]
• by
Last Note.
•
↓15
Title means "Hero of Love".
16.
【ミクオリジナル曲】恋愛算数【koma'n】
•
Ren'ai Sansuu
[Hatsune Miku]
• by
koma'n
• Title means "Love Arithmetic". All these Ren'ai thingies, is it because of Valentine's Day?! XD This song starts off as a slow pop song with minimal instruments, gradually rising to an upbeat electropop melody. It's not as good as, say Badbye, IMO but it's a different approach altogether anyway.
17.
VOCALOID3 IA「blessed child」(オリジナル曲)
•
blessed child
[IA -Aria on the Planetes-]
• by
PeperonP
•
↑24
18.
『初音ミク』千本桜『オリジナル曲PV』
•
Senbonzakura
[Hatsune Miku]
• by
KurousaP
•
↓13
Title means "A Thousand Cherry Blossoms".
19.
【巡音ルカ】 パラステラル 【VOCALOID】
•
Parasteral
[Megurine Luka]
• by
emon
• emon's pop is just so good. The beat is unforgettable and while Luka sounds a bit shaky (and she doesn't sound like her usual sultry voice!) it's a good effect that I enjoyed.
20.
【Lily・巡音ルカ】珀花繚乱【おりじなる】
•
Hakuka Ryouran
[Lily x Megurine Luka]
• by
KunkakunkaP
• This is a folk-inspired rock song with rather weak instruments but an interesting melody. The first thing I noticed here is the interesting way the Vocaloid are tuned. They have well-defined lilts in mid-phrases, as if to recreate traditional way of singing (or I'm overthinking it! XD). Lily tends to sound a bit too bland at long notes but she sounds good at high parts.
21.
【初音ミク】透明人間のニヒリズム【オリジナル】
•
Toumei Ningen no Nihilism
[Hatsune Miku]
• by
Kano
• Title means "Nihilism of the Invisible Man". Kano is also the utaite, and she's quite good at composing indies and Vocaloid songs. This a very rock ballad with somehow an unbalanced overlaying of melodies, since the guitar music seems too loud for me. Miku is tuned gentle and whispery although at overly high notes she sounds like she's whistling XD.
22.
【初音ミク】 吸血少女、夜を行く。 【オリジナルPV】
•
Kyuuketsu Shoujo, Yoru wo Iku
[Hatsune Miku]
• by
MoffP
• Title means "Blood-sucking Girl Fleeing into the Night". A rock song with a bit of jazz undertones, this track is reminiscent of other rock songs in the ranking, just a bit slower with a bit of sassy notes in the background. Miku sounds a bit sharp, but considering the theme, it's not bad at all.
23.
【初音ミク】透明交差点【オリジナル曲】
•
Toumei Kousaten
[Hatsune Miku]
• by
(Ka)P
• Title means "Clear Crossing". This is quite different from the styles of most songs we see in the ranking. It's unabashedly pop with a simple melody that gets laden with plucking guitar melody. Miku sounds gentle but solid. It's impressive for me.
24.
【初音ミク】 心臓デモクラシー 【オリジナル】
•
Shinzou Democracy
[Hatsune Miku]
• by
MikitoP
•
↓02
Title means "Heart's Democracy".
25.
【初音ミク・巡音ルカ】リンちゃんなう!【鏡音生誕祭2011】
•
Rin-chan Nau!
[Hatsune Miku x Megurine Luka]
• by
OwataP
•
↓12
26.
【GUMI Whisper】334人の敵【オリジナルPV】
•
334 Hito no Teki
[GUMI Whisper]
• by
KonataP
•
↓03
Title means "The Enemy of 334 People".
27.
【IA】ヘッドフォンアクター【オリジナルPV】
•
Headphone Actor
[IA -Aria on the Planetes-]
• by
Jin
•
↓18
28.
【初音ミク】 死桜 -album ver.- 【ダルビッシュP】
•
Shiou
[Hatsune Miku]
• by
DevilishP
• This is a lighter version of DevilishP's rock, with chimes accompanying his usually strong guitars. Miku is tuned very high but not screechy, which is good because it'll sound weird if her voice scratches against the sharp guitar music.
29.
【鏡音リン】 真昼のホラー 【オリジナル】
•
Mahiru no Horror
[Kagamine Rin]
• by
Hikari Syuyo
• Title means "Midday Horror". It's been a while since I've heard from Hikari Syuyo, but his work remains engaging. This is his usual rock song with distinct guitar work and smooth Rin tuning.
30.
【ボカロ8人】Bad ∞ End ∞ Night【オリジナル】
•
Bad ∞ End ∞ Night
[Vocaloid collab]
• by
HitoshizukuP
and
Yama△
•
↓06HISTORY
1. Kamikyoku (Hatsune Miku) - OnewP
2. Kagefumi Etranger (Hatsune Miku) - Substreet
3. ↑Jinsei Game↓ (Hatsune Miku) - yuzuhiko
4. Shabettaaaaaaaa!!! (Hatsune Miku) - Pikeru
5. Panda Hero (GUMI) - hachi
PICKUP【Mew】 ネコトトリ 【オリジナルPV】
•
Neko to Tori
[Mew]
• by
CharikenP
ENDING【初音ミク】3476メトロ -SAYONARA EDIT- 【リメイク#2】
•
3476 Metro -SAYONARA EDIT-
[Hatsune Miku]
• by
KochoP